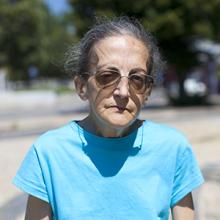 English
My name is Maria Filomena, I'm 58 years old, originally from Castelo Branco but have been living in Coimbra for many years. I have had many fractures, two compound fractures any many other micro-fractures.
My first fracture occurred when I was quite young. My arm got caught between a sliding door, and it fractured. I went to the hospital and was treated normally, because I didn't have osteoporosis, but even at the time the doctor prescribed calcium supplements, which I started taking regularly. But with time my bone health began deteriorating, especially affecting my arms and back. Essentially, that's what happened.
Two years ago I underwent surgery for stomach cancer and that's when my bones seriously began deteriorating. Now I'm in the state that I am, receiving regular treatment at the rheumatology and osteoporosis department at the hospital. Let's see how much I can bear while I'm still here.
The biggest change in my life has been my diet – I now try to have healthier meals, with a greater emphasis on calcium. I feel quite limited. I'm very careful and try to avoid falls. I can't fall!
I'm very scared of falling and becoming confined to a wheelchair – that's what I've been told can happen to me. So this complicates my life a bit. Falling and breaking a leg, a hip, or another bone can make my situation even worse.
I have four boys, two of which still live with me. This situation also affects me. I had a full house and all of a sudden it's a bit less full. It terrifies me to think that one day they may have similar problems to the ones I am living through now. I try to call their attention to certain habits and actions they have, like bad posture, that may have a negative impact on their bone health in the future. But it isn't always easy to do this in younger generations.
For them, for my kids, it's difficult to go out with someone who has mobility difficulties. I imagine it's difficult for them to see that their mother isn't what she used to be. This limits pretty much everything. So I feel heartbroken. I try to be understanding; they're young and can walk quickly, but I can no longer do that. I really can't any more.
Living in Coimbra doesn't help. The city is hilly and that creates a mobility barrier that hadn't previously existed.
Although there is progress in accessibility with many places having ramps, there are still quite a few that only have stairs. And if the stairs don't have a hand railing, I can't go up or down, mostly due to fear, but also because my balance has decreased. But the situation is improving, so I'm able to move around quite freely.
Actually, I had been working until one year ago. The laboratory for which I was the technical director closed and I was forced into unemployment, a situation I'm still in today. But it was almost a good thing, because I was working about 100 km from home, commuting every day, and it wasn't easy. Getting up and down from public transportation was proving more and more difficult – sometimes I would get a ride from colleagues, other times I would drive, but it was never easy. 
At the moment I'm taking all sorts of vitamins, from vitamin D, to vitamin C, to iron, and many many more to see if I can get this under control. But it's really very complicated – I have permanent anemia so they have only been able to improve my situation with injectable iron. And the doctor that is treating me has even said: "Avoid falling at any cost, because if you do fall, it'll be very difficult to not end up in a wheel chair."
People need to take care of their bones from an early age because I get the impression that this disease is preventable before reaching menopause.
Once menopause has arrived the lower levels of hormones contributes to lower bone density. And this should be instilled in adolescents that this actually happens! And cases like mine, of people like me, that aren't too old but that are almost completely incapacitated: we live our lives from within our homes, and when we do need to go out, it is with a lot of suffering. Not being able to place our feet on the floor sometimes and get up due to the pain – it's very complicated. So yes, we need to instill in younger adults that they need to take care of their bones and prevent osteoporosis beforehand, because after menopause arrives it is definitely more difficult to reverse the effects. Having to take all this medication… because with osteoporosis come other debilitating diseases and you end up feeling, quite literally, like a worn out rag. 
Portuguese
O meu nome é Maria Filomena César, tenho 58 anos. Sou de Castelo Branco mas vivo já há muitos anos em Coimbra. Tenho duas, fracturas mesmo que ficaram expostas, tenho duas, entre muitas outras micro-fracturas.
A primeira fractura que tive eu era aínda relativamente nova. Fiquei entalada na porta de um 'troley' onde fracturei um braço. Fui tratada normalmente, e logo nessa altura disseram-me que era preciso um aporte de cálcio, o qual eu começei a tomar regularmente. Mas depois a situação de transformação a nível da parte óssea foi-se modificando toda com alterações a nível de mãos e costas. Fundmentalmente foi isso que aconteceu.
Não me dei conta de mais nada que me tenha acontecido. Os meus dedos estalavam, deslocavam e fracturavam com facilidade. Aínda não há muito tempo fiz um estalar do maxilar só porque a porta do elevador me bateu no maxilar. 
De há dois anos para cá, depois de ter sido operada a um carcinoma do estômago, é que as coisas se começaram a deteriorar aínda mais e que começei um tratamento específico. Estou agora na situação em que estou, a ser tratada no hospital nas consultas de reumatologia e osteoporose, a ver como é que vou aguentando até cá andar.
Fundamentalmente a maior mudança que tive foi que começei a alimentar-me melhor, um bocadinho mais com base no cálcio. Há muita coisa em que estou limitada, digamos assim. Eu tenho muito cuidado para não cair. Eu não posso cair! Tenho um medo ruível de cair e de ficar numa cadeira de rodas para o resto da vida, que foi já isso o que me disseram que me podia acontecer. E de maneira que, é muito complicado. É uma situação muito complicada. Se uma pessoa cai, e parte uma perna, uma anca, ou algo do género, pode levar a situações muito piores.
Tenho quatro filhos, mas já só tenho dois em casa. Os outros já estão na sua vida, embora não tenha nenhum casado, já estão todos na sua vida. Isto afecta-me um bocado. Via-me numa casa cheia e neste momento estou um bocadinho com a casa mais vazia e tenho receio que algum deles possa um dia vir a ter algum problema semelhante. Procuro sempre chamar-lhes atenção para certas coisas que eles fazem, para não as fazerem da maneira que fazem; determinados tipos de posturas que têm por exemplo. Mas nem sempre é fácil incutir-mos na gente nova determinado tipo de situações. E para eles também é muito complicado. É muito complicado saírem com uma pessoa que tem dificuldade em se movimentar, o verem que a mãe já não é o que era. E tudo isso se torna muito limitativo. Vai-nos trazendo algumas vezes um bocado de desgosto, entre aspas, digamos assim, mas é a realidade. Temos que compreender, eles são novos e podem andar depressa e eu já não tenho essa possibilidade. Já não consigo mesmo.
Viver em coimbra dificulta a mobilidade. A cidade é montanhosa e isso cria uma barreira que não existia antes. Embora agora já esteja melhor porque já há rampas em quase todos os sítios. Mas há sítios onde não posso ir porque têm muitas escadas. Se não tiver corrimão, eu não consigo subir ou descer. Isto pelo medo, pelo desiquilíbrio, porque me desiquilibro um bocado, e não consigo mesmo. Mas agora como já há rampas em muitos sítios, mesmo em edifícios publicos e em passeios, já posso movimentar-me relativamente bem. E aliás eu estive a trabalhar até há um ano e pouco. O laboratório onde era directora técnica fechou. Fechou por má organização por parte dos patrões e eu vi-me no desemprego que é como estou neste momento. Mas qualquer das formas, já me era muito difícil ir ao trabalho porque eu estava a trabalhar a cerca de 100 km daqui. Eu ia e vinha todos os dias, e não era fácil. A maior parte das vezes ia de transportes públicos, e o subir e descer já me custava. Havia vezes em que apanhava boleia de colegas, outras vezes levava o carro, mas nem sempre era muito fácil.
Neste momento estou a tomar toda a variedade de vitaminas que existe: desde vitamina D, vitamina C, ferro, um complexo vitamínico, tudo e mais alguma coisa para ver se conseguem debelar a situação. Mas está a ser muito complicado mesmo – eu tenho uma anemia permanente e só com ferro ingetável é que conseguiram que a situação melhorasse. E mesmo o médico que me está a tratar disse-me: "Hevite a todo o custo cair, porque se cai, dificilmente vai evitar a cadeira de rodas".
As pessoas que se cuidem antes, porque isto dá-me ideia que tem uma prevenção enquanto nós somos mais novos, e antes da menopausa chegar. Porque quando a menopausa chega, a falta das hormonas vai contribuir para uma menor quantidade ossea, de cálcio, de fixação do cálcio, de ficação do ferro. E isso devia ser incutido nas pessoas mais novas, que isso acontece! E de casos como o meu, e de outras pessoas que haverá como eu, que não somos muito velhos mas que estamos quase incapacitados. Fazemos a vida de casa, fazemos a nossa vida, mas à custa de muito sofrimento. Há dias em que nem consigo quase por os pés no chão, e é muito complicado isso. Por isso talvez incutir nos jovens essa ideia, de se tratarem e de se precaverem antes, porque antes da menopausa dá-me a ideia que tudo será mais fácil. Porque a trás da osteoporose vem outras doenças e a pessoa vê-se um trapo. Praticamente.