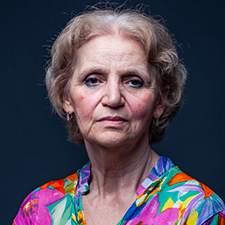 English
Six years ago, at age 61, Marine fractured her spine. She had been lifting her mother, who had mobility difficulties following a stroke, when she was struck by sudden, extreme pain. 
After visiting a doctor, she was sent for a DXA (Dual-energy X-ray absorptiometry) scan to check the status of her bone density. The diagnosis: osteoporosis. 
Could Marine have taken earlier action to prevent her spine fracture? 
In retrospect, the risk factors were evident. She had gone through early menopause at the age of 41, due to a hysterectomy. At the age of 56 she slipped while working in the garden and sustained a forearm fracture. Busy with four grandchildren, Marine had ignored the regular back pain when lifting the kids. In terms of her lifestyle, she had not paid any attention to exercise or adequate calcium intake. 
In any one aged 50 and over, a fracture which occurs after a fall from standing height is a sure sign of poor bone health, and one should consult a doctor for a bone health assessment. Unfortunately, Marine did not have a DXA scan after her first fracture at age 56. She had incorrectly assumed that it is normal to break a bone after any fall (even a minor slip).  
Now, following her second fracture, Marine is taking action to protect herself from more painful and debilitating fractures. Her doctor has prescribed medication, calcium and vitamin D supplementation, and a 'bone-healthy' lifestyle - with regular exercise, a nutritious diet, and attention to falls prevention.
Marine says, "My life has changed since then. I try to take extra care to avoid falls and I've started to pay attention to my lifestyle and diet.  I now try to eat healthier meals which include plenty of dairy. I walk every day for 40 minutes, try to get enough sun exposure, and make sure that I take my prescribed medications on time. I also keep up to date with information about osteoporosis and healthy nutrition by following the Georgian Association of Skeletal Metabolism Diseases' (GASMD) Facebook page."
I regret that I wasn't informed about osteoporosis before I had fractures.
Marine advises everyone to be informed about osteoporosis and to have a DXA scan at around the age of 50-55, as early diagnosis can help people at risk to prevent fractures. By knowing your risks (and in Marine's case early menopause was certainly a warning sign) you can take early action for prevention. 
"I believe people need to take care of their bones from an early age. It is very important to build up your bone and muscle mass when you are young. With strong bones and muscles you are less likely to develop osteoporosis and fractures. You should keep on exercising, even in old age, to maintain bone mass, strength and good balance. My doctor urges everyone to be aware that keeping your muscles strong can help you to avoid falls and the fractures that result."