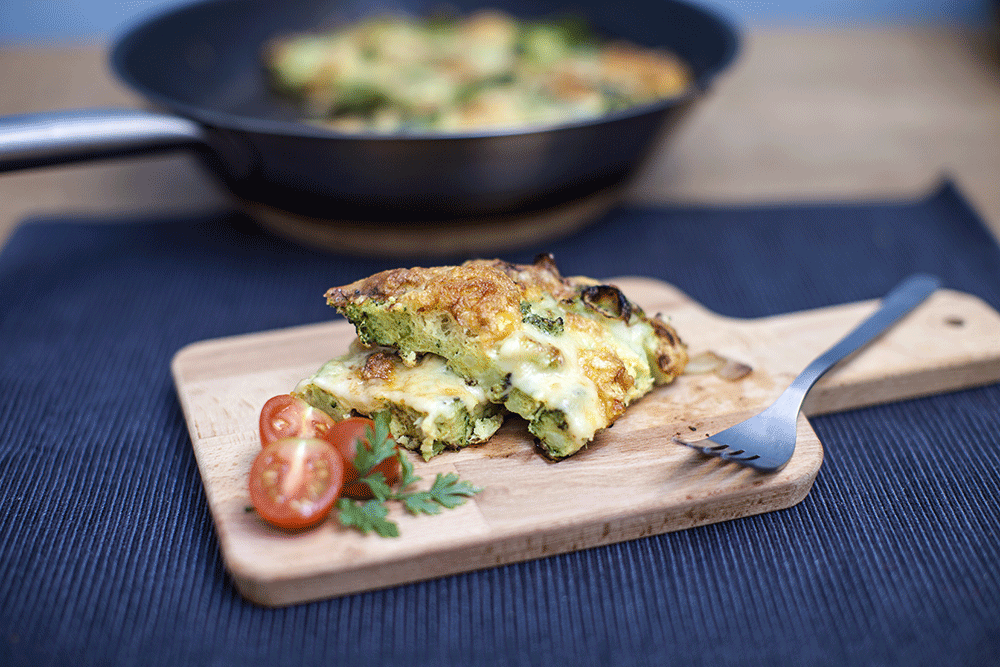 Ingredients
8 large eggs
1 small onion, sliced
2 tsps olive oil
300 g/2 cups broccoli, chopped
1/4 tspn salt
Pepper to taste
50 g / ca. 1/2 cup shredded cheese - for e.g.aged Cheddar or Gruyère
Instructions
Separate 4 of the eggs, putting the whites into a bowl (discard the yolks). Add the 4 whole eggs and 2 tablespoons of water to the whites and whisk well.
Boil or steam the broccoli until just slightly soft.
In a medium ovenproof nonstick skillet/frying pan heat the oil at medium heat. Add the onion and cook until it begins to soften, about 5 minutes.
Add the broccoli and cook for another 2 minutes. Add salt and pepper.
Pour the egg mixture over the vegetables in the skillet covering them evenly. Reduce heat to medium-low, cover, and let cook until the egg mixture is firm around the edges but slightly liquid in the middle, about 7-8 minutes.
Preheat the oven, on broil.
Once ready, sprinkle with the cheese. Place the skillet under the broiler until the surface is set and golden braown, about 2-3 minutes.
Cut the frittata into 8 wedges. Serve with green or mixed salad.