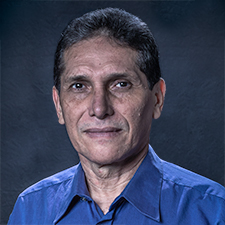 English
Osteoporosis changed my life.
At 32 years of age, I began experiencing pain, and decided to visit a doctor. He diagnosed muscular pain.
When discussing this with a friend, she suggested that I get a bone density test. I went to a doctor to request a test, which showed osteoporosis. However, the doctor dismissed the result as being wrong. He said that osteoporosis is a woman's disease and I was far too young to have osteoporosis anyway. 
That's when I contacted the Foundation for Osteoporosis and Metabolic Bone Diseases (FOSEMO), Panama's main patient and medical organization for osteoporosis and related diseases.  
At FOSEMO, after asking many questions about my childhood, they noted that I didn't drink milk because of lactose intolerance, and I had had a fall at age 13 in which I had fractured my tibia (bone in the lower leg). Also, at 25 years old I had a jaw dislocation while exercising. An X-ray at the time revealed some bone thinning but it wasn't given any importance.
With my visit to FOSEMO, my life changed emotionally. Even though I had had a diagnosis of osteoporosis, no one had paid attention to everything that I was going through until FOSEMO took care of me. I finally had expert advice and was started on treatment. My therapy included regular exercise, a calcium-rich diet, vitamin D supplements, and bisphosphonates which I took for eight years. As a result, I gained bone density and felt stronger. 
I have now been on a drug "holiday" for some six years. However, my job demands more hours and it's very sedentary, so I have been doing less physical activity. Two years ago, I had another BMD test which revealed that I am losing BMD faster, so I´ve been placed on treatment again.
I'd like to warn men that osteoporosis can affect us too, but it is a manageable condition which can be easily detected and successfully treated.
Spanish
LA OSTEOPOROSIS CAMBIÓ MI VIDA
A la edad de 38 años vivía con muchos dolores en mi cuerpo; fué entonces cuando decidí visitar un médico, quien me diagnosticó con dolores musculares.  Un día, mientras conversaba con una amiga acerca de mis dolores, me sugirió hacerme una Densitometria Ósea y me la hice.  El diagnóstico fue Osteoporosis.   Regresé con el médico pero me dijo que el resultado era incorrecto, ya que la osteoporosis era una enfermedad femenina y además estaba muy joven para tener osteoporosis y fue allí donde contacté a la Fundación de Osteoporosis y Enfermedades Metabólicas Óseas, FOSEMO.
En  FOSEMO me hicieron muchísimas preguntas sobre mi niñez.  Se registró que no tomaba leche ya que sufro de intolerancia a la lactosa, que tuve una caiga a los 13 años y me fracturé la tibia y que a los 25 años me disloqué la quijada mientras hacia ejercicios, me hicieron radiografías y encontraron "adelgazamiento del hueso", sin embargo nadie le dio importancia.
Mi vida había cambiado emocionalmente, porque aunque tenia un diagnóstico, seguía sintiendo dolor y nadie se esforzaba por aliviarlo, Finalmente, gracias a FOSEMO, emepecé mi tratamiento que incluía ejercicios, consumir alimentos con calcio, vitamina D y bifosfonato, por un periodo de 8 años.  Gracias al tratamiento, recuperé la DMO (Densidad Mineral ósea), sintiéndome muy fuerte.  Pasados los 8 años, tomé un descanso de 6 años.
Luego de un tiempo, mi día demandaba muchas horas de trabajo, por lo que me volví sedentario y disminuí el tiempo de ejercicio diario.  Hace 2 años mi Densitometria Ósea reflejó una pérdida de Densidad Mineral Ósea, por lo que he tenido que empezar el tratamiento desde cero, nuevamente.
Hoy en día, me mantengo en mi tratamiento y exhorto a los caballeros a hacerse su Densitometra Ósea y a que estén atentos de la salud de sus huesos, ya que la osteoporosis no es una enfermedad exclusiva de la mujer. Sucede en los hombres y puede ser detectada y tratada con éxito.