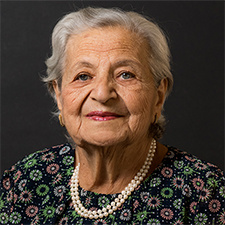 English
Marie-Rose, aged 84 and a mother of five, sustained a hip fracture two years ago.
Before the fracture occurred, she had been leading an active and independent life. Although she did have painful knees due to osteoarthritis and was taking multiple medications for hypertension, these common age-related health issues did not greatly affect her mobility and quality of life.   
One day, Marie-Rose tripped while walking down from a low step, probably not more than 10 cm. high. She grasped someone beside her to try to brace herself, but nevertheless dropped slowly to the ground. Despite the slow fall, she landed on her pelvis and broke her left hip. 
At the hospital she then underwent hip arthroplasty. At the time, no DXA test was done to measure her bone mineral density (BMD), although calcium and a low dose of vitamin D supplementation were prescribed. Over the next year Marie-Rose slowly regained her mobility, but now walks with a cane and needs help with some daily tasks. 
Recently, Marie-Rose finally had a proper bone health assessment. A DXA test has revealed severe osteoporosis: very low BMD with a T-score of -2.4 in the spine, -5.5 in the left radius, and -3.1 in the right hip.
Marie-Rose's medical history doesn't provide any clues as to the cause of her osteoporosis. Although very low calcium intake may have negatively affected her bone health, she did not take glucocorticoids or proton-pump inhibitors, did not experience early menopause, and was not underweight or a smoker – all important risk factors that can lead to osteoporosis. 
In retrospect, one important sign did go unnoticed: for the last two decades Marie-Rose has progressively lost height and her back has become stooped. Height loss and stooped back (known as kyphosis) are signs of possible compression fractures due to underlying osteoporosis. 
Now pleased to have a proper diagnosis and the expert care she needs, Marie-Rose is optimistic and hopes to remain fracture-free in the future.