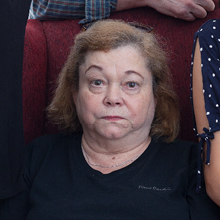 English
At the age of 20, Kati, a young woman with a rather bohemian lifestyle, met a handsome actor in the region of Transylvania. Shortly afterwards she got pregnant and gave birth to a daughter.
Despite her unexpected motherhood, Kati did not cease living an unhealthy lifestyle. In fact, she soon fell into depression which spiraled what was previously casual social drinking into heavy drinking coupled with chain smoking. So, since her early twenties, Kati had been smoking one pack of cigarettes and a half liter of heavy alcohol per day. Smoking and excessive alcohol intake are two significant risk factors for bone loss.
At age 54, a lifetime of unhealthy lifestyle caught up with her.
Kati suffered an indirect torsional, low-energy injury which resulted in a displaced fracture of the tibia. Fixation is always a challenge in osteoporotic bone; but in Kati's case it was a real failure. Re-establishing bone union, length, normal anatomic relationships between the knees and ankles was not possible due to the very fragile bone tissue. As a result her right leg ended up being 2 cm shorter and she now walked with a pronounced limp.
Due to her limp, three years later, she fell against a door and fractured her upper arm bone (humerus). And so began another rollercoaster ride of surgery and rehabilitation. Orthopedic surgeons operated three times for a "successful" internal fixation, so that she can raise now her hand to the level of the heart.
Today Kati is 64 and a grandmother. Her daughter and her family are a great support and help her manage with everyday life. Trying to quit the bad habits, she has managed to greatly reduce her alcoholic intake and has switched from cigarettes to vaping.
Although she sometimes wonders whether her life could have been different, she tries to make out the best of her situation.