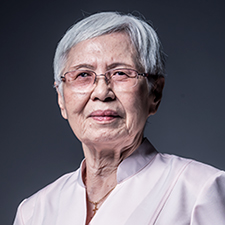 English
Mrs Lo Lan Yen, now aged 77, lives in Petaling Jaya, Malaysia. She enjoyed good health and had no significant medical issues - until a fateful day in 2015, when she tripped over a loose carpet and fell at her home. She landed on her buttock and suddenly felt severe pain over her left hip. The pain was so severe that she could not move her hip and was unable to get up from the floor. Unsure about the extent and severity of the injury, her husband Mr Wong FH, called for an ambulance, and the paramedics then took Mrs Lo to the Emergency Department of a private hospital.  
Clinical examination and further X-ray examination confirmed the presence of a femoral neck fracture of her left hip. The doctors advised imminent surgery to replace the fractured left hip with a prosthesis. Mrs Lo was shocked and worried, and her family members were concerned about the surgery and anesthesia. "Will I be able to stand and walk again?" "Will I be able to do all my household chores and my gardening again?" "Will I be wheelchair bound or bed bound after the fracture and surgery?" "Will I survive after surgery?" Mrs Lo was reassured repeatedly by the surgeon that with her healthy background and the nature of this surgery, which has a high success rate, she would be able to regain her maximal functional status possible. Hip fracture surgery (hemiarthroplasty) was then carried out on the same evening.  
The surgery was a success. Mrs Lo was able to get down from bed and started to stand and walk with her walking frame four days after surgery, despite the pain.  She was discharged from hospital and was able to go home around one week after her fracture.  With self-motivation and intensive rehabilitation program, Mrs Lo was able to walk, first using a walking frame, and then using a walking stick just two weeks after surgery. 
A DXA scan to assess her bone mineral density was done and showed the presence of osteopenia.  Given that she had sustained a serious fragility fracture following a fall from just standing height, Mrs Lo's doctor's prescribed therapy for osteoporosis (weekly alendronate) and calcium and vitamin D supplements. 
Today, Mrs Lo is very happy that she has regained almost normal function and can carry out her daily activities.  She is able to stand and walk without any support, and even stands for a few hours to prepare lunch and dinner for family. She does her gardening and joins her family for outings as she did before the fracture.  She is able to squat, kneel and sit on a low stool, but gets up with some effort.  
Remembering the devastating result of her fall after merely tripping over a loose carpet, Mrs Lo is now more careful about safety in her home environment. She shares her experience with her siblings and children and even advises them to have their bone density checked.  She is also more careful now when she walks as she still is fearful of falling. She can't forget all the pain and agony she suffered in the first month after her fracture!  
Mrs Lo and Mr. Wong FH both agree that any elderly person who sustains injury following a fall should call for an ambulance. It is always best to call for professional help to transfer a patient from home to hospital, as a family member cannot really assess the severity of an injury.  
Mrs Lo's experience shows that there are several factors which help a patient achieve the best functional outcome possible after a hip fracture. It is important that the fracture is treated as soon as possible to allow early mobilization, and that the patient has self-motivation, family support, and works closely with the doctor, paramedic and rehabilitation team. Finally, it is equally important to treat the underlying disease, osteoporosis, to help prevent subsequent fractures.